Thanksgiving Week Sales Nov 23 - 30th:
10% off with free US/Canada shipping on all orders!
*** Note: Discounts will be reimbursed as a refund upon product shipping via the original puchase method. ***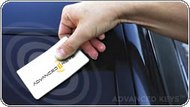 Bypass Transponder Card for Backup Access and Ignition
All Smart Key systems will include 2x Bypass Transponder Card. This credit-card sized transponder card fits in wallet and provides an alternate way of accessing and starting vehicle. Simply wave the transponder card over the antenna to disarm, unlock and enable the push-start or knob start. Never worry about losing or forgetting your keys.