Due to staffing change, limited product support until further notice.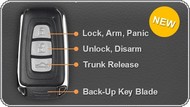 New Access Key - OEM styled Fob
In response to requests we have released the new OEM fob styled smart access key to replace current flat-card access key. The new fob key is more durable, encased in chrome sidings and embodies a number of improvements such as a button for Trunk Release, compartment for a metal key blade for emergency access. It's backward compatible with all AK-103 and newer system and ships with all
AK-105B
and
AK-105S
systems.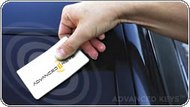 Bypass Transponder Card for Backup Access and Ignition
All Smart Key systems will include 2x Bypass Transponder Card. This credit-card sized transponder card fits in wallet and provides an alternate way of accessing and starting vehicle. Simply wave the transponder card over the antenna to disarm, unlock and enable the push-start or knob start. Never worry about losing or forgetting your keys.